Our community - as well as the entire world - has been through a lot over the last year during the COVID-19 pandemic, and all of us are looking forward to resuming our normal habits and routines. While many things have changed, one thing has remained the same: our office's commitment to your safety.
Our entire office has received our full doses of the COVID-19 vaccine as of early 2021, and we are tested regularly for contact tracing protocols.
Infection control has always been a top priority for our practice and you may have seen this during your visits to our office. Our infection control processes are made so that when you receive care, it's both safe and comfortable. We want to tell you about the new infection control procedures we follow in our practice to keep patients and staff safe.
Our office has updated it's infection control protocols with recommendations made by the American Dental Association (ADA), the U.S. Centers for Disease Control and Prevention (CDC) and the Occupational Safety and Health Administration (OSHA). We follow the activities of these agencies so that we are up-to-date on any new rulings or guidance that may be issued.
We do this to make sure that our infection control procedures are current and adhere to each agencies' recommendations. You may see some changes when it is time for your next appointment. We made these changes to help protect our patients and staff.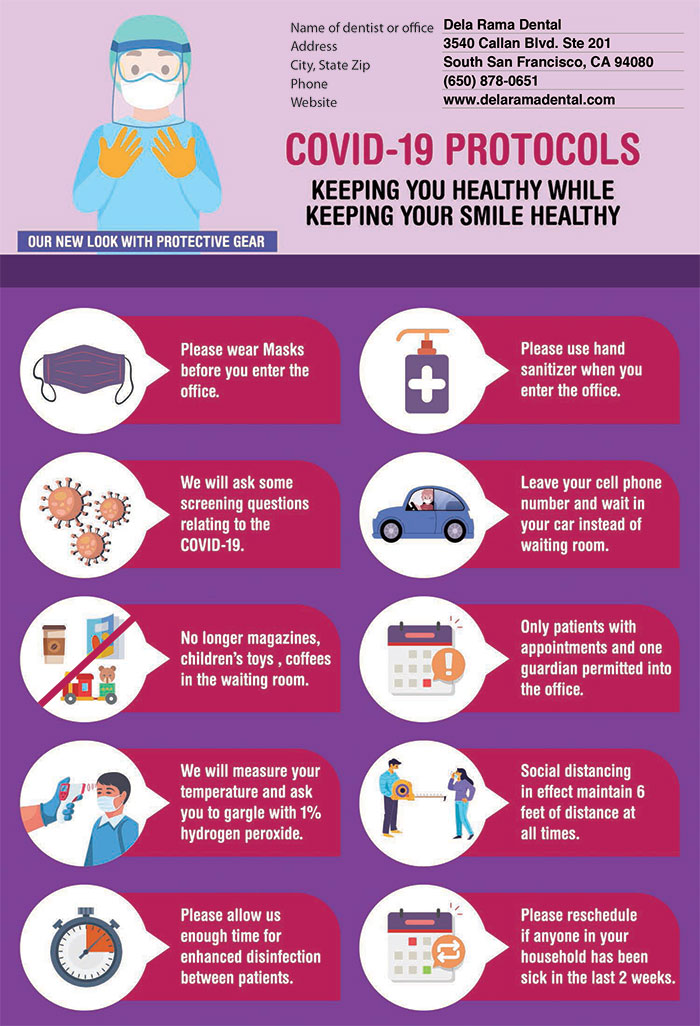 Other changes that you can expect:
Both of our offices have undergone a thorough cleaning to reduce possible transmission vectors for COVID-19. Operatories are cleaned with enhanced detail between patients and the office thoroughly cleaned with virulocidal agents on any area that may have come into contact at the end of the day.

We will open additional days at both of our offices (Mondays at SSF, Saturdays at Millbrae) and limit the number of doctors and staff to avoid over crowding the office. We also provide extra time between patients to accomodate for our updated cleaning protocols. This means that appointment availabiliies may be limited; and patients may not get their preferred appointment time.

We switched to paperless forms for information that was traditionally filled out on paper to minimize contact. This includes: intake forms, prescriptions, consent forms, and referral forms. Paper documents are still available but will handled using public health guidelines to ensure everyone's safety.

We now offer virtual teledentistry, providing consultations, Invisalign checkups, and virtual Q&A with our doctors. This will allow us to still provide the one on one care you have come accustomed to while following social distancing protocols.

We have a increased the number of ways to contact our offices, including an updated online request form. As always, we are still accessible by 2 way texting, email and calling by phone.

We now offer secure online payment, so patients can make a contactless payment in office or at home without having to come to the office. Traditional methods of payment transactions via cash, check and credit card are still available, and will follow strict infection control guidelines whenever possible.
As with any new procedures or protocols, bumps in the road are to be expected. We ask for everyone's patience as we navigate this new situation. We look forward to seeing you again and are happy to answer any questions you may have about the steps we take to keep you, and every patient, safe in our practice. To make an appointment, please contact one of our offices or use our online appointment scheduler. For more COVID-19 information, visit California's COVID public health website at https://covid19.ca.gov.
Thank you for being our patient. We value your trust and loyalty and look forward to welcoming back our patients, neighbors and friends.